Happy Tuesday loves, one of questions I often get asked about on my in my Instagram DM box is how to care for your skin. This question comes from women of all ages and from all ethnicities. I know as consumers, it's frustrating and confusing because there is always some new and great product out there claiming to do this and claiming to do that. Regardless of what name brand you choose to use, you want to ensure you are doing all the necessary steps in your daily skin care routines to age gracefully. With my 12 years of experience as a Medical Esthetician, I wanted to do a comprehensive post on how to care for your skin at every age.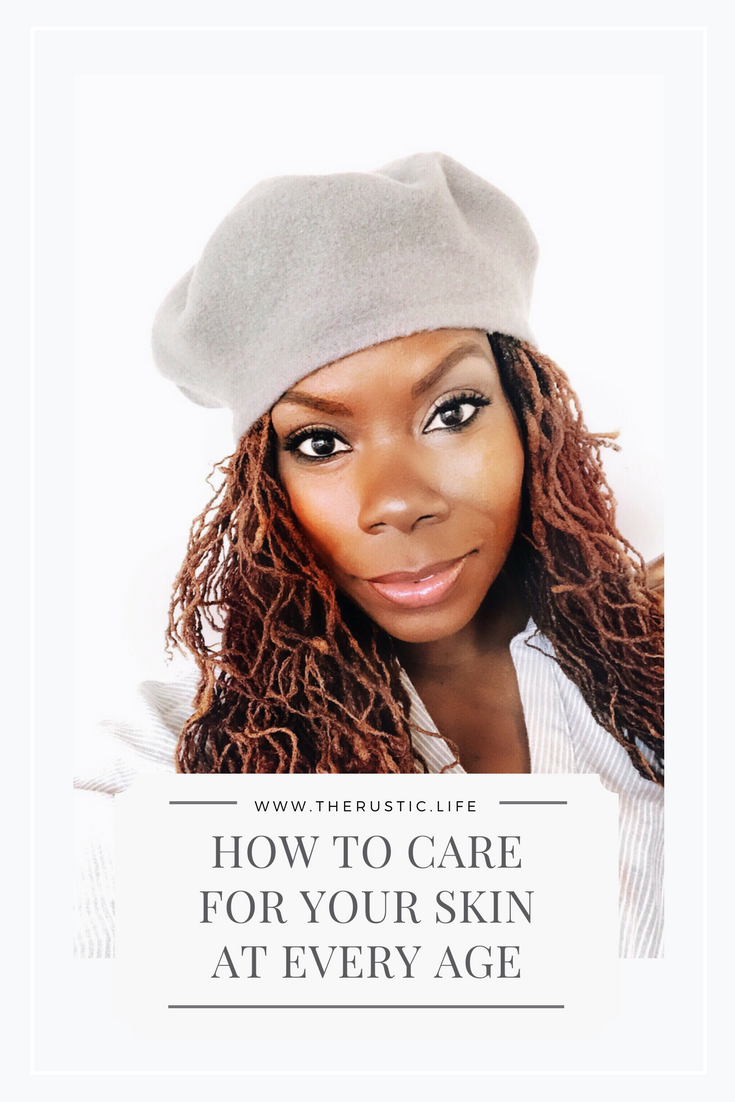 IN YOUR 20s
In your twenties you have youth on your side. But don't think for a minute that damage that will show up in later years, isn't happening on a daily basis everyday right now. Collagen and elastin are in peak production so skin is firm and tight in your 20s. Your worries don't need to be focused on the breakdown of these just yet. Your focus should however be on maintaining a healthy skin care routine as a young adult and not a routine that still feels like it's one for a teenager. Make sure to invest in the 3 basics of any skin care routine. A skin appropriate cleanser, a moisturizer, and sunscreen (preferably broad spectrum SPF 30 or higher). An optional skin care product you may want to include at this age is a toner to help balance the skin's ph level after your cleanser is used. Although I advocate beginning to use eye cream in your 20's, if you are on a budget, this step you can incorporate around 27-29 yrs old, but certainly no later than age 30. WHICH CLEANSER FOR MY SKIN: If you have oily skin, use a cleanser that foams (a little or a lot) as this will help to break down the oils. If you have dry skin, you need more hydration therefore a creamy/milky cleanser or a gentle foaming cleanser like this one works great since it is made of saponified Organic Coconut, Olive, and Jojoba Oils and won't strip the skin of essentials oils. Combination skin is also great for a gentle foaming cleanser. If you struggle with oily/acneic, look for cleansers that contain either salicylic acid or mandelic acid (which are antibacterial and anti fungal) or a cleanser with Benzoyl Peroxide which helps to dry out the excess sebum/oil that is being produced.
[shop-widget title="PRODUCTS FOR YOUR 20's"]

[/shop-widget]
IN YOUR 30s
In your thirties, not only do you want to include the skin care products I mentioned above, but what you want to start incorporating into your skin care routine are products that are designed to fight off the formation of sun damage (which trust me is being formed everyday, the sun damage just hasn't quite surfaced yet). Skin care serums that are beneficial to fighting sun damage include ones made with Vitamin C and I'm not talking about the Vitamin C that you find in your orange juice or supplements. Vitamin C not only fights sun damage by attacking free radicals that damage the skin but it is essential to the production and the maintenance of collagen (protein) and elastin (fibers) these helps to keep skin tight and firm. The 3 most popular and common types of  vitamin C you will find mentioned on skin care labels are Ascorbic acid, L-ascorbic acid and Ascorbyl palmitate. HOW TO — USE SERUMS: Serums are to ALWAYS be used UNDER your moisturizer. The viscosity and molecular structure of serums are made purposefully thin so that they can penetrate deeper into your skin. Wait a minute or two and then put on your moisturizer. Moisturizers are generally thicker than serums so if you put a moisturizer on before a serum then the serum will not penetrate through the moisturizer. Serums aren't cheap either as they care considers treatments that should invoke a change to your skin and you want it to work. You will also want to ensure you are using an eye cream BOTH day and night. This is an essential step in any healthy skin care routine in your 30s because  the skin is thin in the  eye area and there are no oil glands under the eye area so hydration needs to be put injected there. Use your ring finger to apply your eye cream as it is the finger with the least amount of pressure and since the skin under the eye area is thin, less pressure is a good thing. No need to rub it in, just dab/pat it in gently and make sure to even apply it up to the sides of the eye and even up to the brow bone area. DARK CIRCLES: Contrary to popular belief, dark under-eye circles don't always signify lack of sleep. Dark circles under your eyes form because of poor blood flow. The blood then sits underneath the thin skin of the eye area as a bluish/purple color. (use a little salmon color concealer to nueturarlize those colors before putting on your regular concealer)
[shop-widget title="PRODUCTS FOR YOUR 30's"]

[/shop-widget]
IN YOUR 40s and beyond
Once you hit your 40's and beyond that you need to take out all the big guns. Don't go down without a fight. You are aging, but there is no reason you can't age gracefully now is there. We have already discussed the basic products starting in your 20's and what products are must haves in your 30s. Beauty products you should definitely start incorporating into your beauty routine in your early 40's and beyond are products that help to reverse signs of sun damage and brighten the skin such as kojic acid, azelic acid and if you want to try something natural, products that have tumeric in them like this rose mask will help to brighten your skin as well. Rough skin texture once you hit your 40's will become an issue. To handle fine lines, wrinkles and skin texture, you should find a product with Vitamin A (retinoid). Retinal will will be a less irritating version of Vitamin A compared to Retina A (you can get Retina A in prescription strength from your doctor or dermatologist) Retinol is a natural form of vitamin A, while Retin-A is derived from retinoic acid, a synthetic derivative of vitamin A, and considered pharmaceutical. This is the gold standard to fighting off signs of aging, without going under the knife that is. Using Vitamin A is like giving yourself a very light chemical peel. It's effective safe and will give you the results you are looking for. You just want to ensure that you are using it as directed. HELPFUL ANTI AGING SKIN TREATMENTS: Two of my favorite procedures I used to love doing in my skin spa was anti aging peels. Anti-aging peels work at a deeper level, using stronger levels of acids to lift off sun damage, age spots, dark spots and soften skin texture (you will need several of them for maximum results). Also, microdermabrasion is the #1 skin treatment at skin spas and clinics because of  its immense ability to improve the skin. If you haven't read my article on the benefits of microdermabrasion treatments, click here to read it.
[shop-widget title="PRODUCTS FOR YOUR 40's and Beyond"]

[/shop-widget]
STEPS YOU NEED AT EVERY AGE
EXFOLIATE: is a must. Skin should me exfoliated once a week to help shed old skin cells and reveal fresh glowing ones. You can do this via physical exfoliation (little beads/texture) or chemical exfoliation using acids OR some have both ways of exfoliation in them. This should be done at least once a week.
[shop-widget title="EXOLIATORS FOR ALL AGES"]

[/shop-widget]
SUNSCREEN: every skin care routine should include  sunscreen. It's not even up for debate. You also should try to use  a sunscreen with an SPF (sun protection factor) of at least 30 that is broad spectrum meaning it will help your skin stand up against both sun rays that UVA (A = age)+ UVB (B = burn)
[shop-widget title="SUNSCREEN FOR ALL AGES"]

[/shop-widget]
MASK: Mask are wonderful because they help to nourish, balance and deeply hydrate the skin. Some are made to address specific skin concerns such as dry skin, oily/premature or combination skin. This step should be done once a week. The perfect time to do with your exfoliation and do some self care.
[shop-widget title="MASKS FOR ALL AGES"]

[/shop-widget]
---
As an added addition to this post, for those of you who really want to get into age management, grab a cup of jo I'm sharing the below Q +  A with Aesthetic Nurse, Kristina Alexander of Hello Beautiful Medical Spa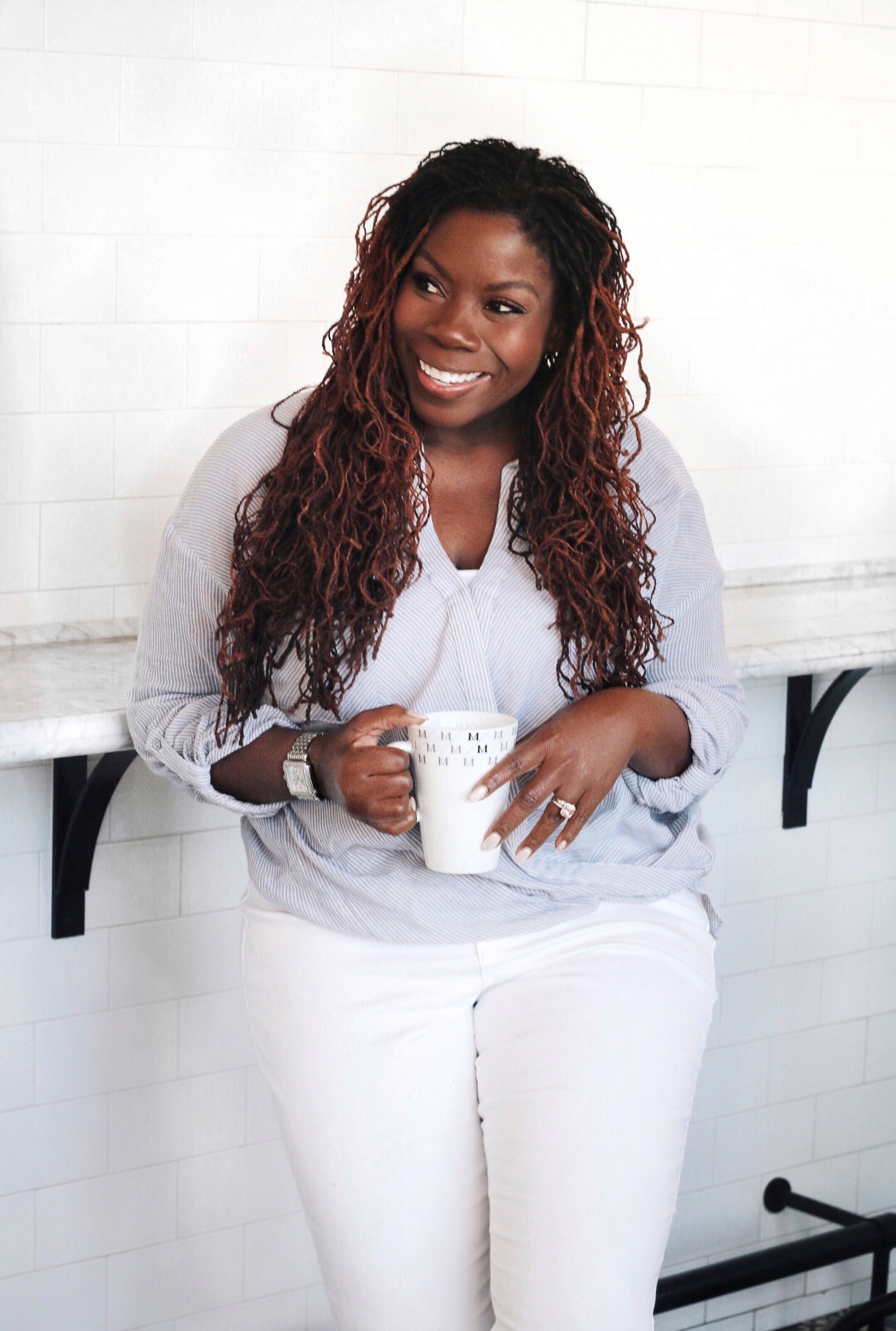 Q: What's the difference between Botox and what you use?
A: I prefer to use a product called Xeomin over Botox or Dysport because Xeomin does not contain any additives. This pure-form version reduces the likelihood of our bodies developing antibodies that become resistant to the neurotoxin! I do still incorporate Botox and Dysport upon request and for certain patients!
Q:
Why did you get into the medical esthetics field?
A:
I work in the hospital on a pre/post surgical floor, which can involve many high-stress situations. I was looking for a way to use my profession in a more fun way, while also giving the patient a boost in confidence! As someone who suffered from adult acne, I was always curious about the skin and trying to find ways to help resolve my problematic skin. My sister, being an esthetician, encouraged me to explore aesthetic nursing, which in turn sprung the idea of Hello Beautiful Medical Spa! I still work in the hospital field and will continue doing so because I truly learn something different every day and enjoy challenging my mind. Hello Beautiful is my place to help bring happiness and confidence to others!
Q:
Do you have any services you specialize in?
A: I personally enjoy performing chemical peels and witnessing the amazing effects of them! Being someone who had problematic skin for years, I can relate to many of my clients who have endured the same issues. It never gets old hearing about how happy and comfortable they are in their new, fresh, smooth skin!
Q:
How often should someone get

Botox

/fillers?
A: Botox typically lasts for 3-4 months. It's totally up to the client as to how often they would like to receive treatments, but in order to keep those pesky lines at bay, it is recommended to be treated every 4 months or when the full effect of the neurotoxin is gone (as long as it's been at least 3 months). On the other hand, fillers are quite different. There is a fine line between over-filled and the perfect balance. I always tell my clients, "the goal is to make you look like a younger version of yourself!" Fillers tend to last anywhere between 6-12 months depending on 1. Which filler is being used, 2. The areas treated, and 3. How quickly the body metabolizes the filler. Be sure to look at your injector's previous work and trust their judgement! If the injector believes something will be "too much" or will make you appear "fake," believe them! We want you to look refreshed, not overdone!
Q:
What other things  is

Botox

great for?
A: Botox
can be used for many things aside from reducing/preventing wrinkles! I actually read an article recently in Time Magazine that had over 75+ benefits of
Botox
aside from cosmetic purposes! I personally have had clients who suffer from migraines and TMJ come in to see me for
Botox
injections to treat these ailments and have found relief! Some other conditions
Botox
can treat include hyperhidrosis (over-active sweat glands on the underarm), as well as sweaty palms!
Botox
is an impressive neurotoxin and has many benefits if used properly!