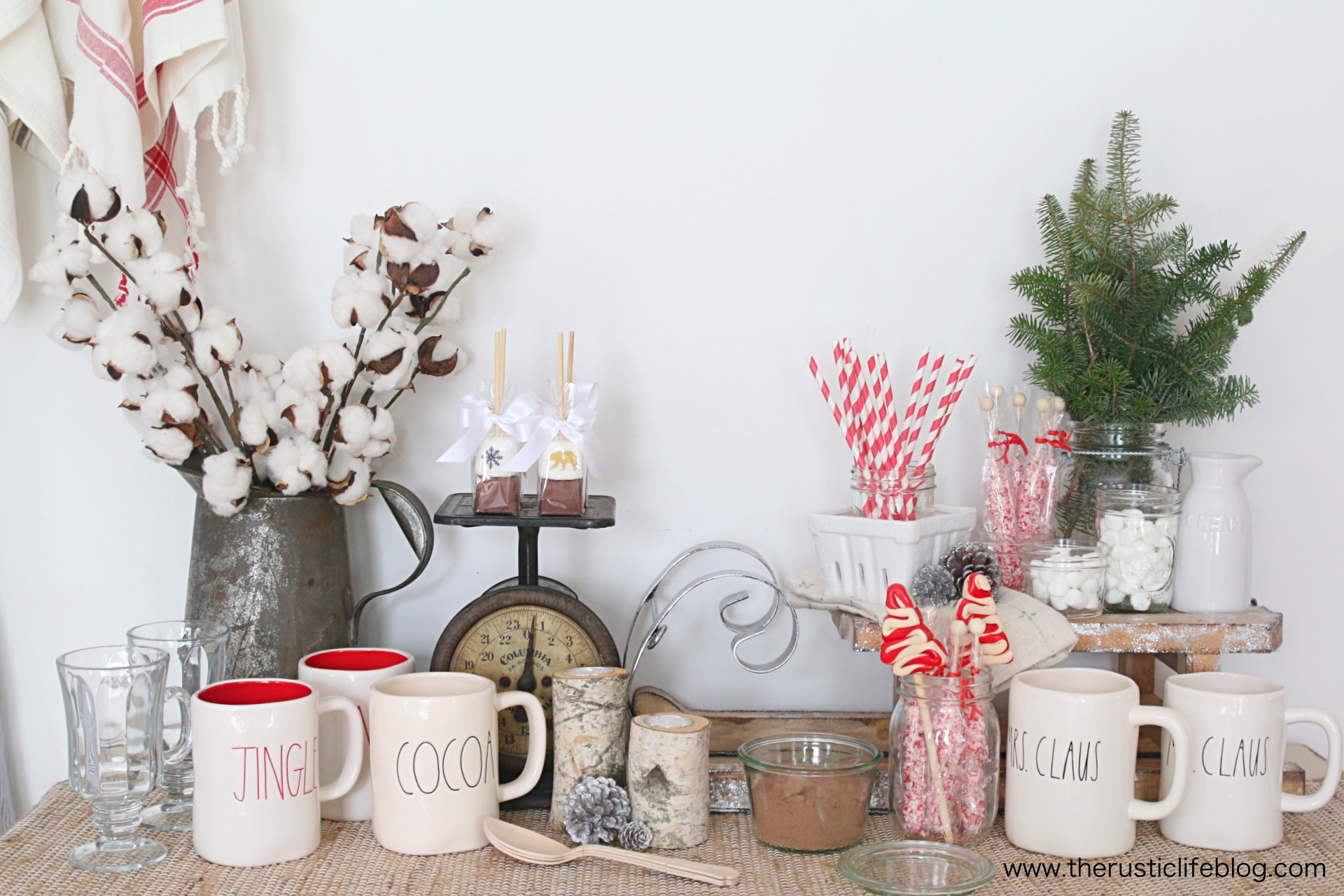 FARMHOUST STYLE HOT COCOA BAR
Can you believe Christmas is Sunday ya'll? In some cases that's a blessing because you actually have quite a few days left for shopping if you haven't finished yet. If you have, you can sit back and watch everyone else go crazy trying to pick up last minute gifts. You could also take some time to set up a cute little hot cocoa bar to welcome guests in for the upcoming holiday weekend. I set this one up a few days ago with just that mind. I didn't shop for anything you see here. I just went around the house and used things I already have (I'm a big fan of that). I shared another idea on the blog for a hot cocoa bar on this blog post, if you don't have much space to work with.
I borrowed the vase with the greenery from the living room. In it's place currently are some pretty pink peonies. (I know, crazy to find peonies in December in New England) You can see them on my instagram page. I found the peppermint stirrer sticks at Homegoods a few weeks back and the paper straws, I always have different colors around.
Are you loving those hot cocoa stirrers on the top of my vintage scale for the hot cocoa bar? I love them. They are from Candy With A Twist, and this company, let's just say, makes marshmallows pretty by customizing them. It's a perfect idea for a wedding, baby/bridal shower or company gifts.
The cocoa powder I wanted to be in a pretty jar, but one that was easy to access and wouldn't make a mess. So I used a glass jar that seals well  to put it in. Using a wide mouth jar like this will give easy access to the cocoa mix without making a big mess. The jute runner I got from Pier 1.
I hope you can see that this is something you can put together in about 15 minutes and it's super cute. To make it a farmhouse style cocoa bar, just incorporate vintage and/or rustic items into the decor and serveware. Add layers, to make it more appealing to the eyes and easy for multiple people to use at the same time. Put out your whip cream and hot milk right before your guests arrive. Have fun and enjoy. The holiday season is around for just a few weeks, but who says you can't leave your hot cocoa bar up all winter.