Well Spring has officially sprung and I'm so excited to start seeing all the blooming that nature will bring our way. I've partnered up with At Home to share and inspire you with ways on how to bring Spring inside and just in time for an intimate Easter gathering.
Our keeping room, adjacent to the kitchen is where we spend much of our time so it was only natural to give this space a little extra love and attention. I grounded the refresh with a soft area rug that brought in a pretty hue of blue to make the space a little more airy. The rug set the tone for incorporating blue into the spring refresh choices. When thinking of Spring decor, think about the colors found in nature that will come alive with each passing day. That for me was greenery and the blue sky.
The pillows are from some of the new collections now in At Home stores (Italian Farmhouse, Natural Wonders, Grace Mitchell and Tracey Boyd). The collections are all unique in their own way and offer something for everyone at various price points and decor styles.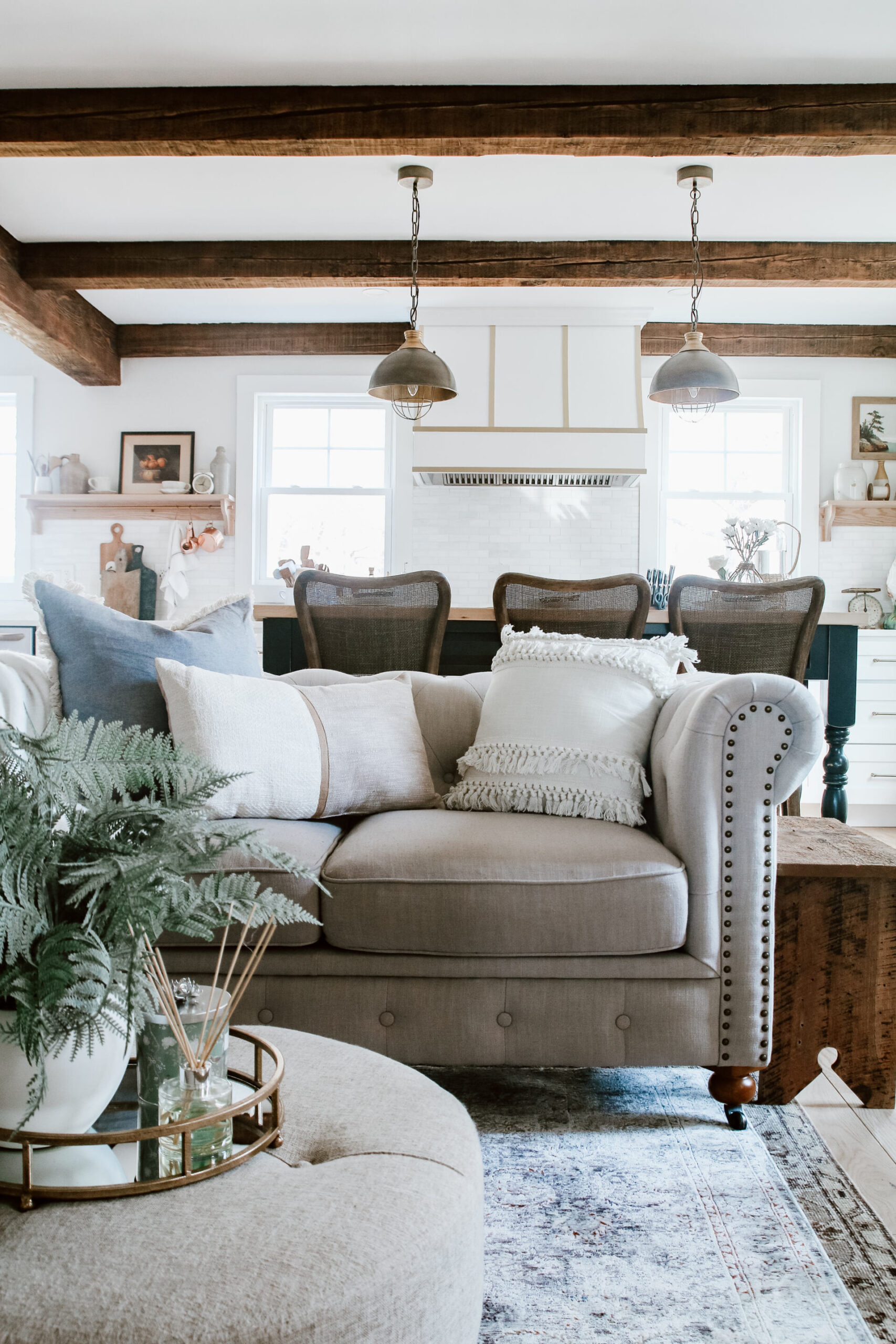 In choosing the pillow textures, I wanted to incorporate that important element of my design aesthetic and these pillows didn't disappoint. When choosing pillows, be sure to mix the textiles of the pillows. As long as the tones play well together, mixing patterns is a beautiful thing.
We brightened up our wood storage option with this gorgeous woven basket from the Natural Wonders collection. My hubby has been asking for a better storage solution for the wood and this one is beautiful and practical.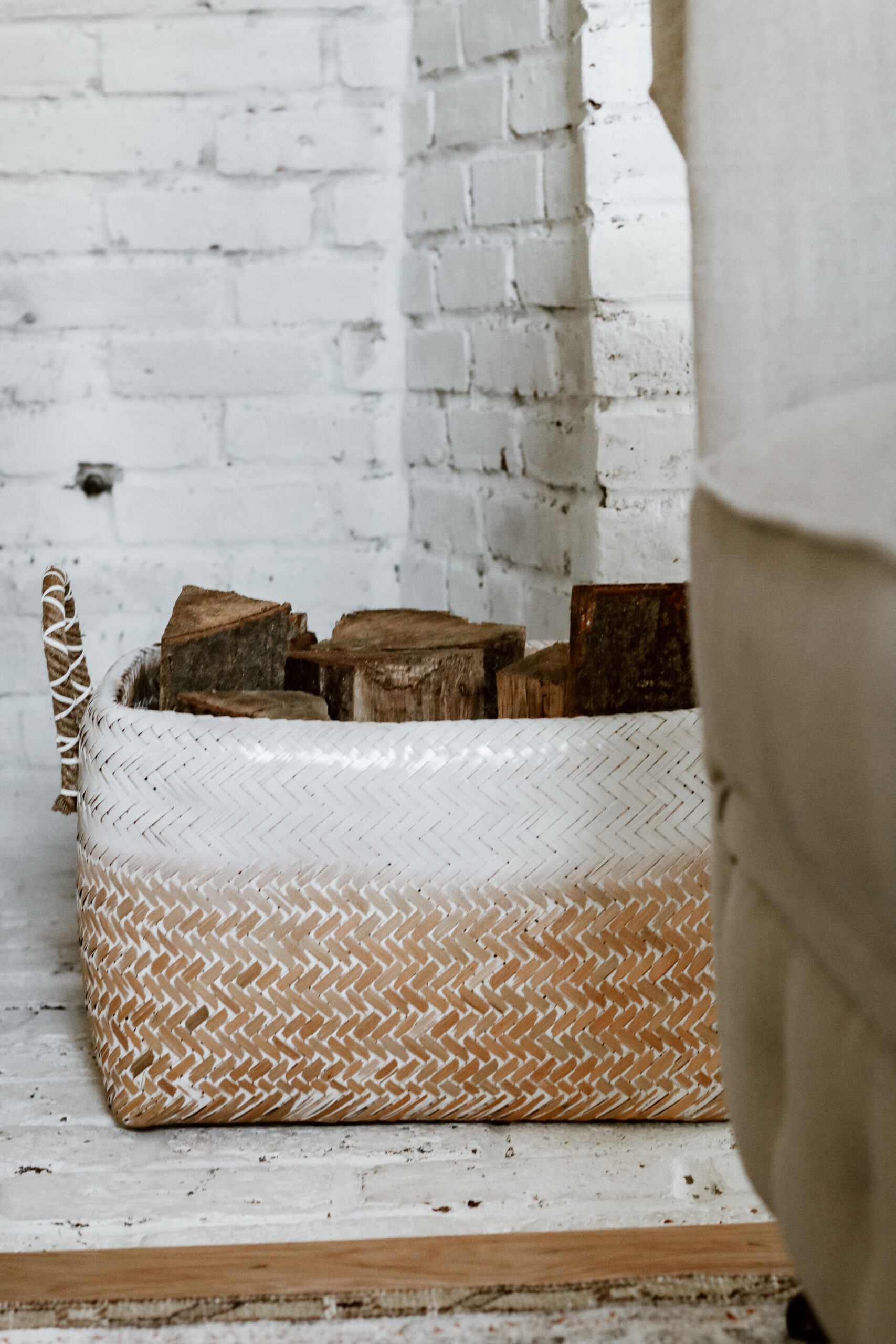 Sprucing up the ottoman was easy. I simply added a faux fern, this gorgeous gold toned mirrored tray (from the Grace Mitchell Collection) to add warmth and texture and also a pretty candle and room diffuser to bring the scent of Spring into the space.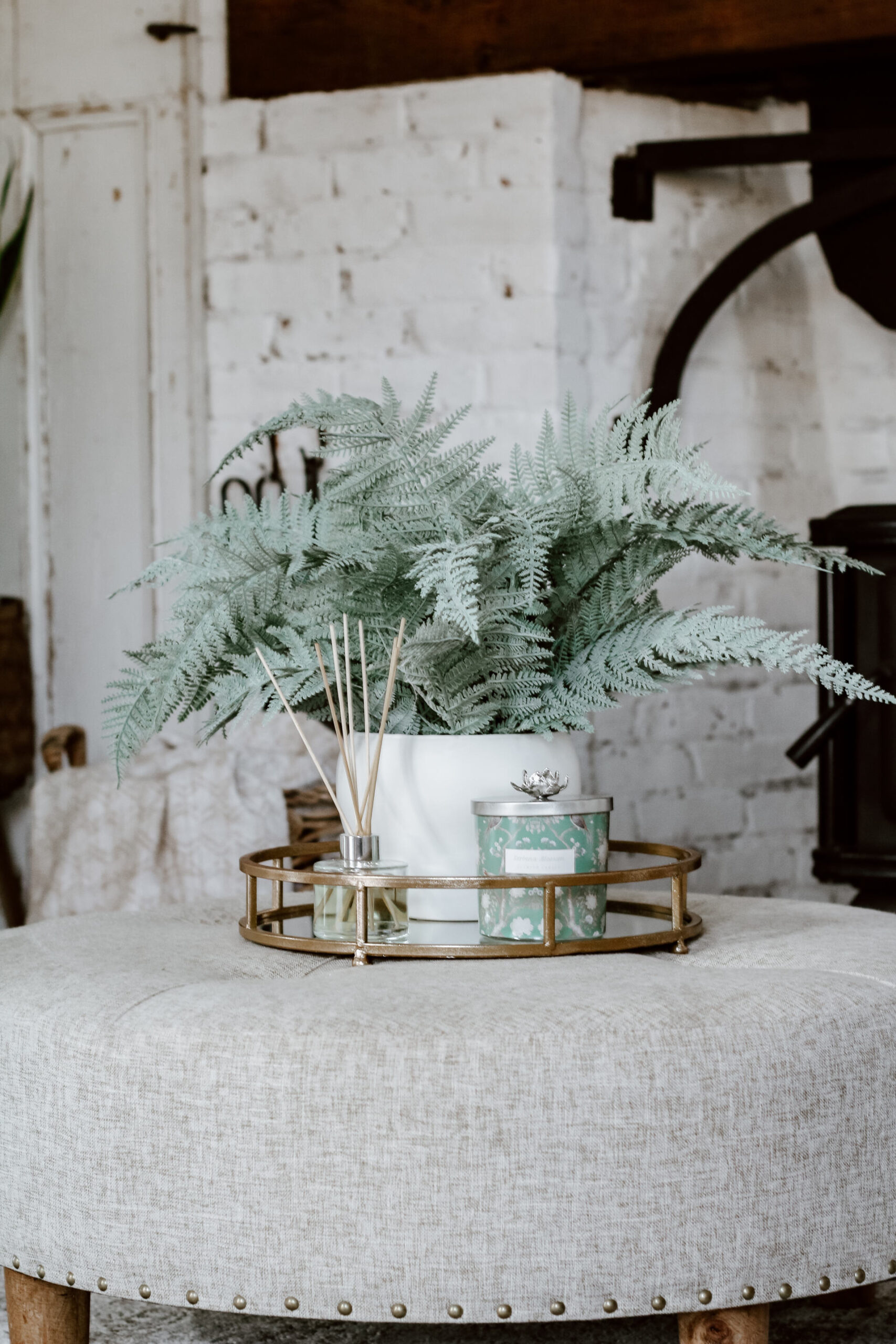 Our small console table under the TV didn't have any gold tones in the area so this elegant clock brought the much need touch to the vignette. When creating a vignette, don't over due it. Keep the items cohesive in tone and be sure that something in the vignette provides a purpose such as lighting, or visual appeal in terms of art and home accessories.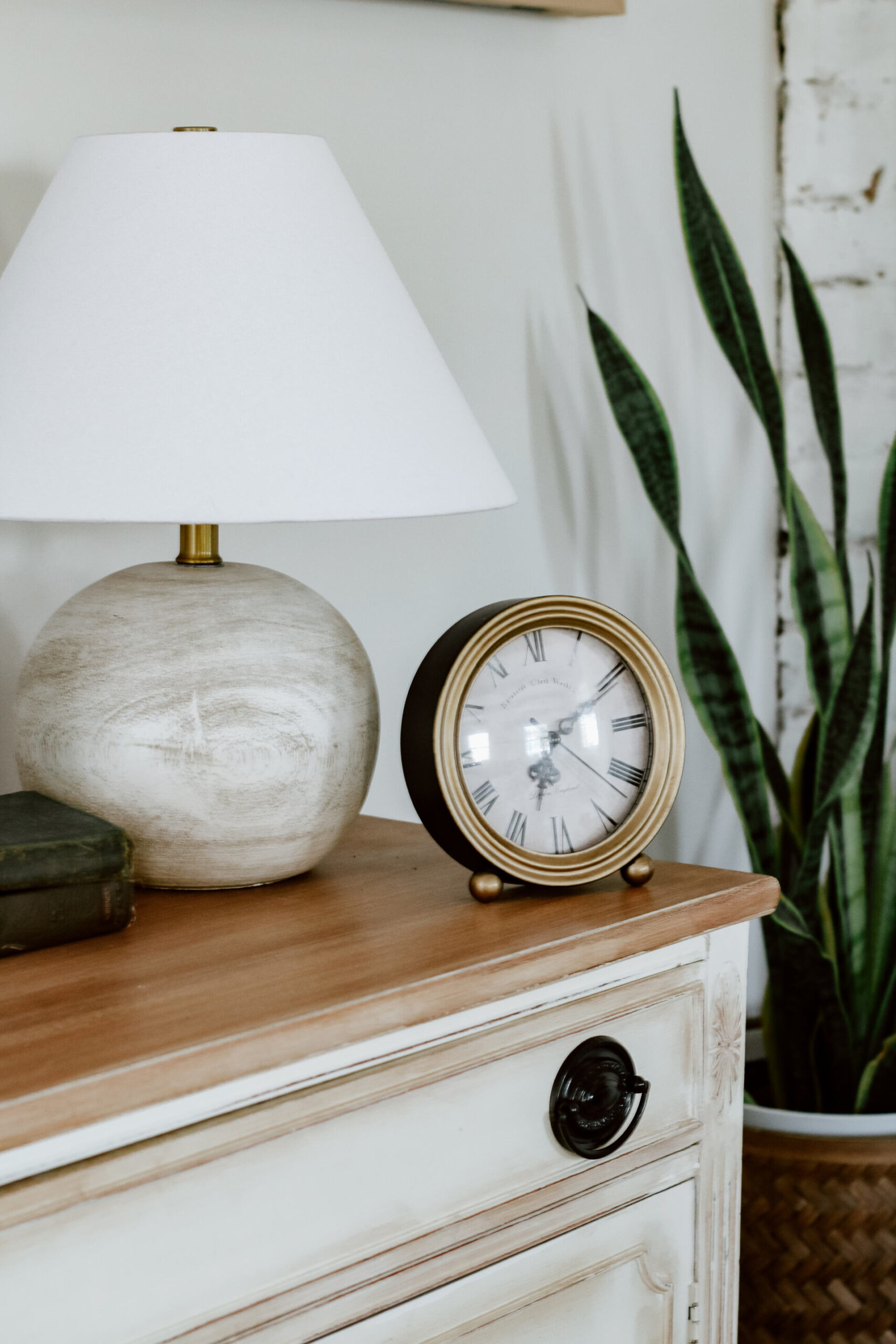 Since we use our kitchen island so much for eating, I wanted to set a pretty tablescape that was simple and small for a Spring gathering. I love the vintage inspired chianti jugs and vases as they add warmth and character (even though I used these on the table now for flowers, they also would look vey nicely on kitchen shelves grouped together). Did you know that At Home stores offers a huge and I mean huge selection of tableware? I love how feminine and pretty the white plates are with the scalloped edges and they layer beautifully with the napkins and placemats also found in store. The small ceramic cheese platter with delicate floral engraving is a pretty touch on an elegant tablescape.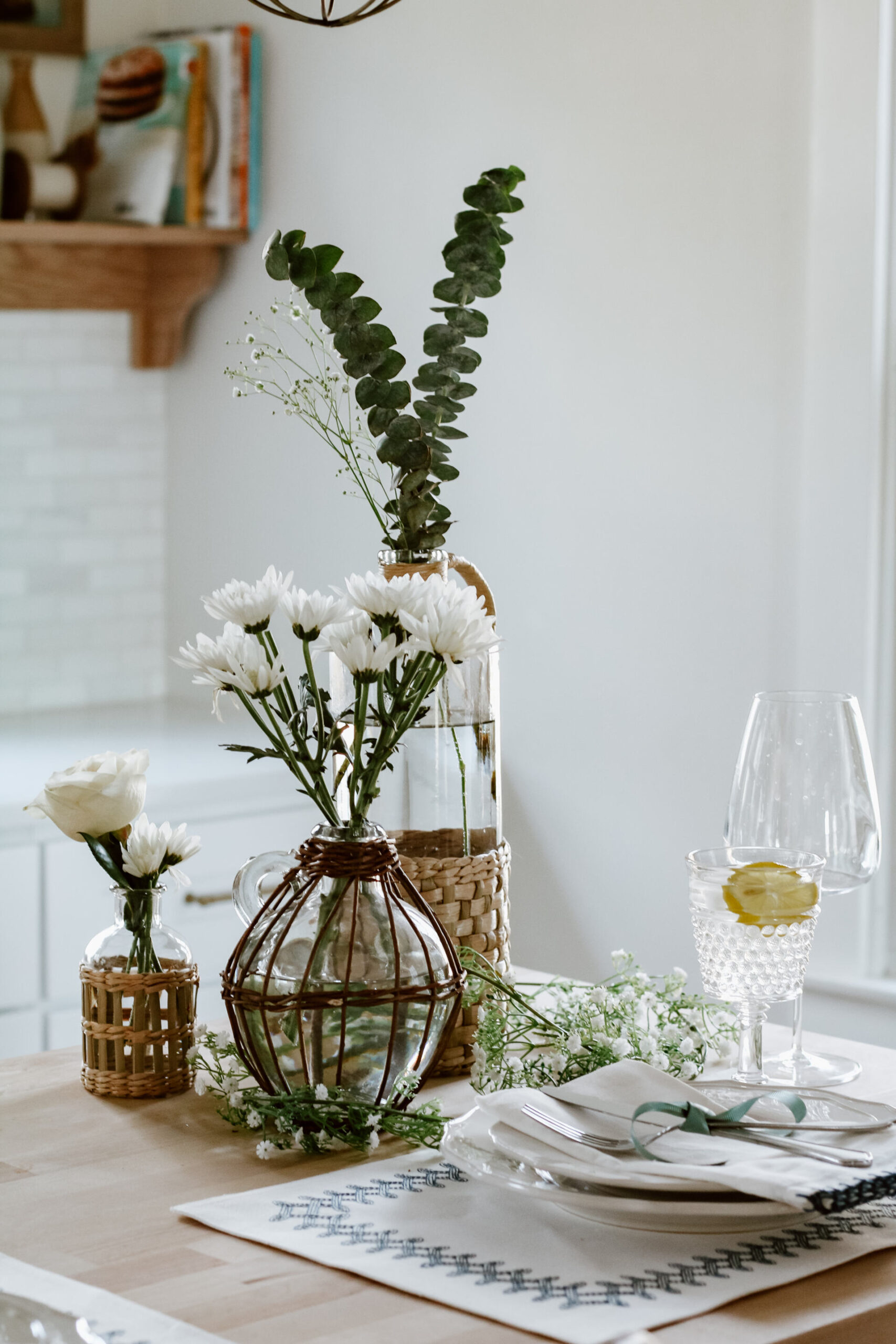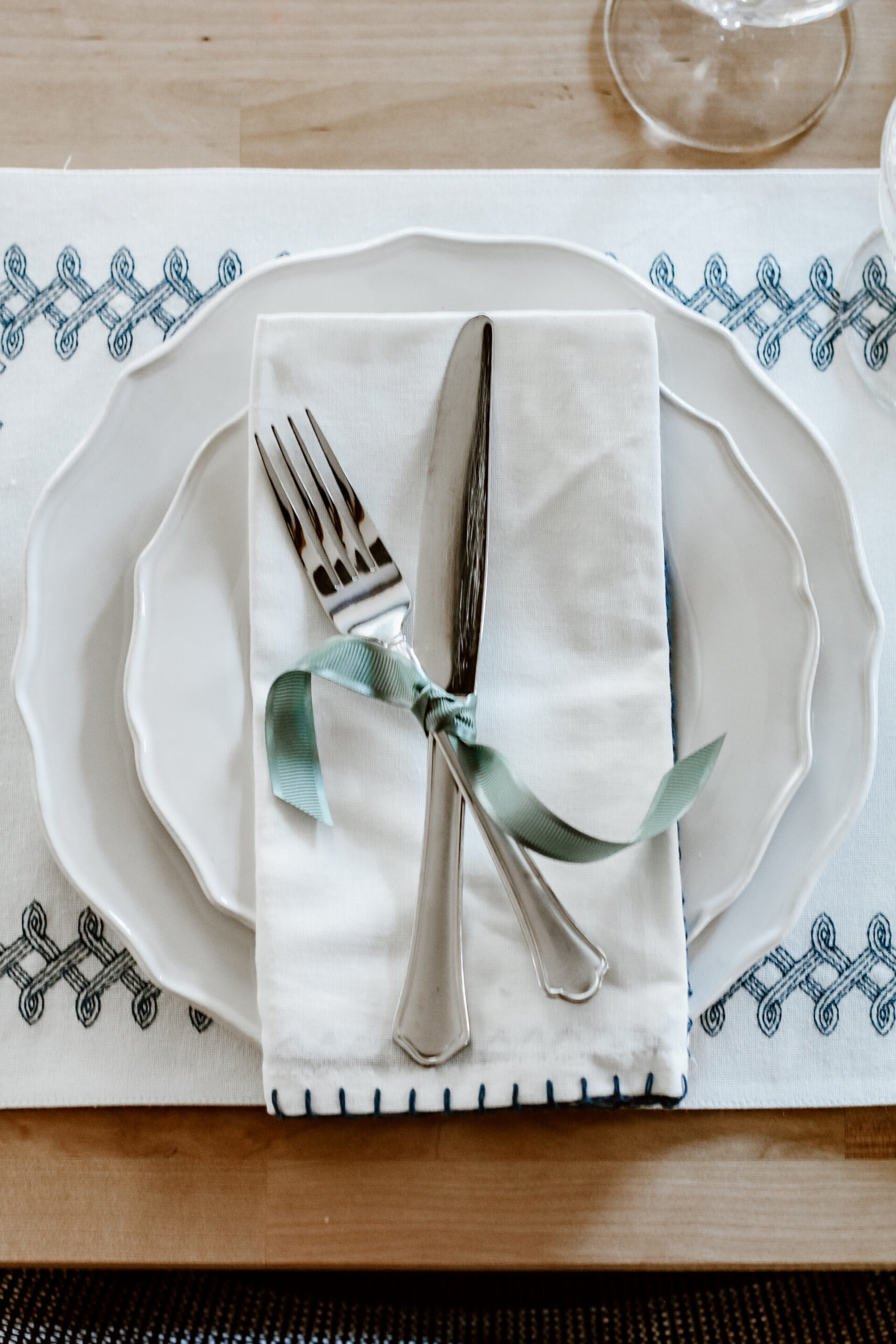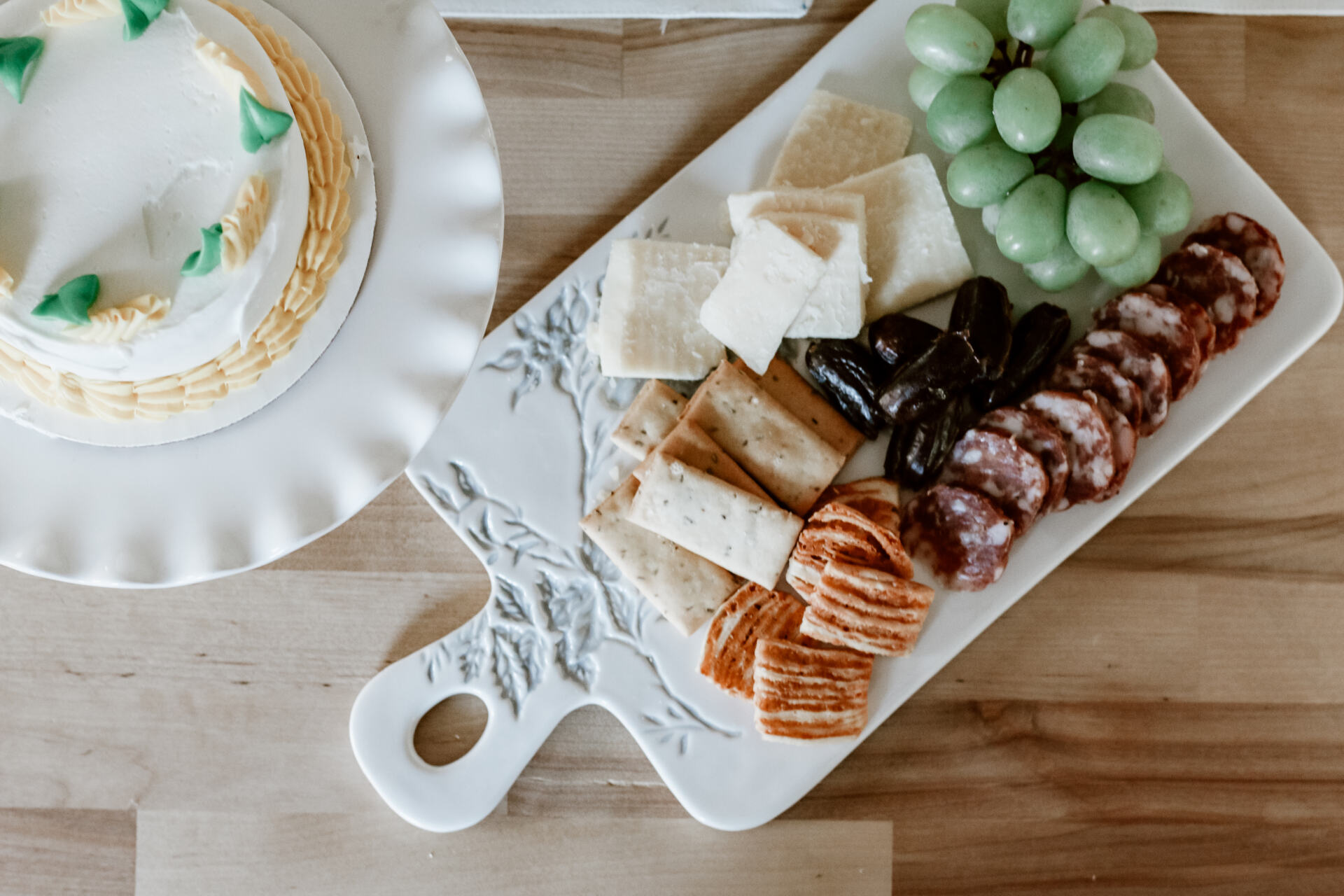 In the living room I kept it simple. I layered pastel green and blue pillows (the textures are dreamy) with a lighter woven throw for warm weather to drape and finish styling of the sofa. The coffee table was refreshed with a Spring floral arrangement in a beautiful gold etched glass vase, this tray (from the Grace Mitchell Collection) and candle holders also from that collection.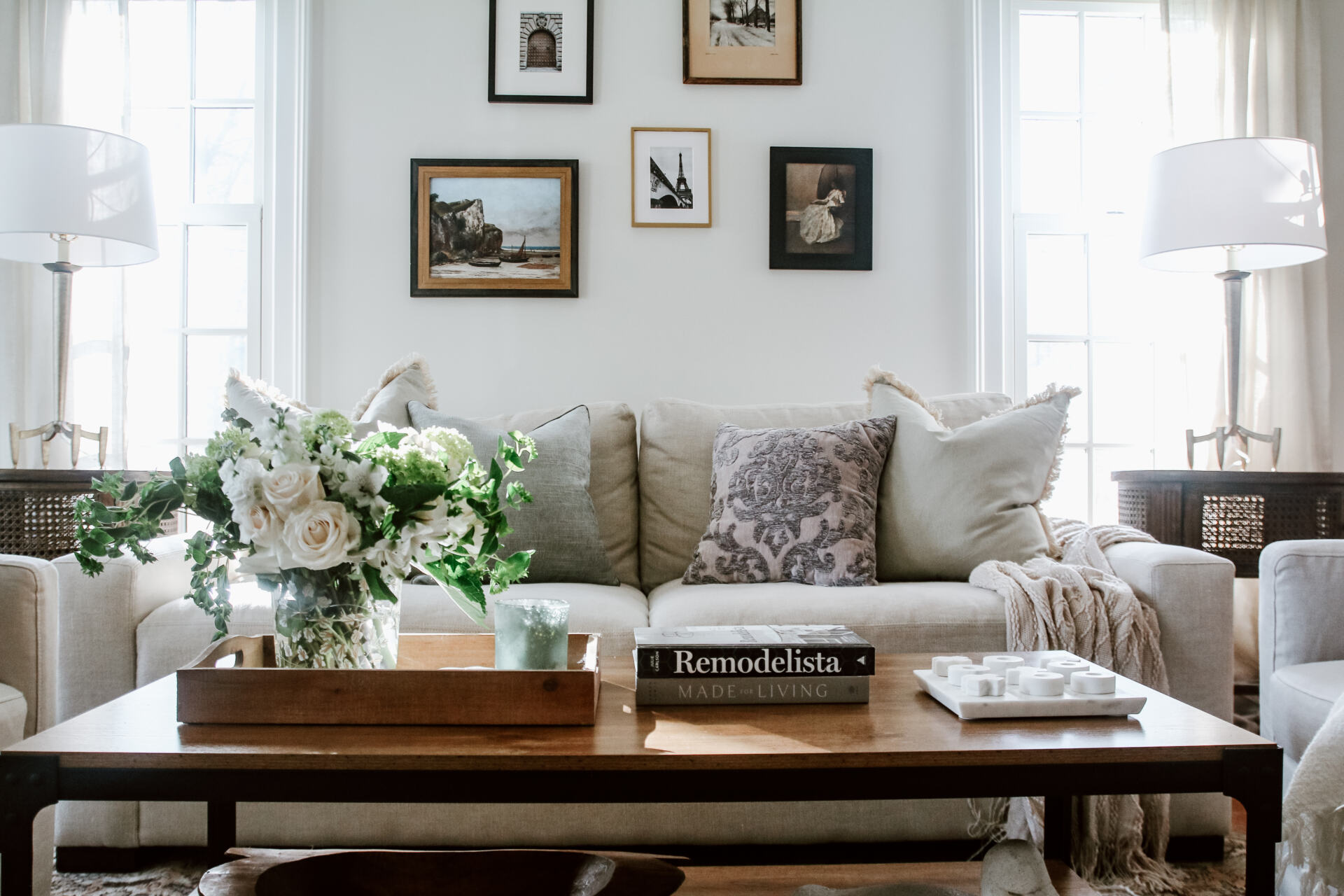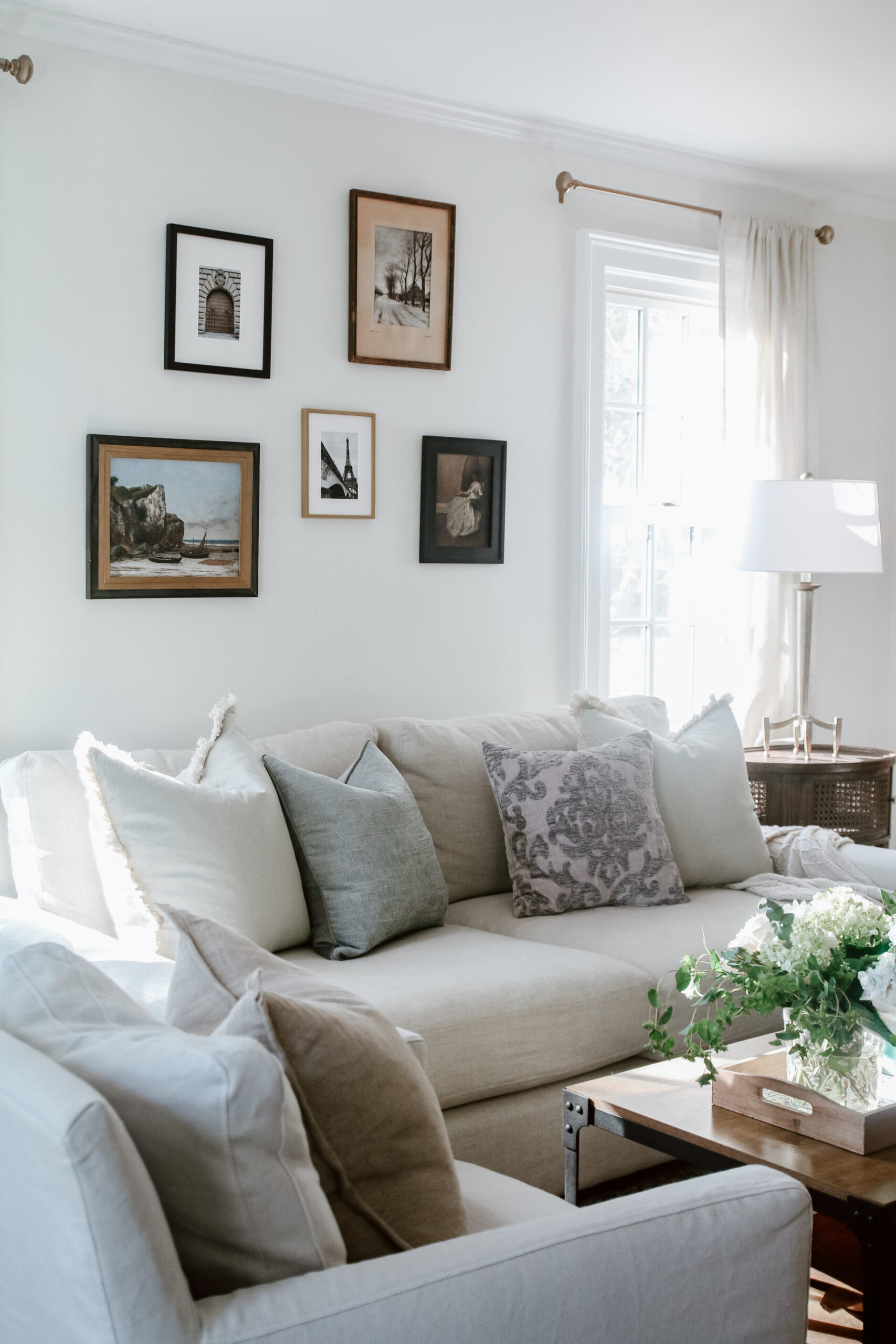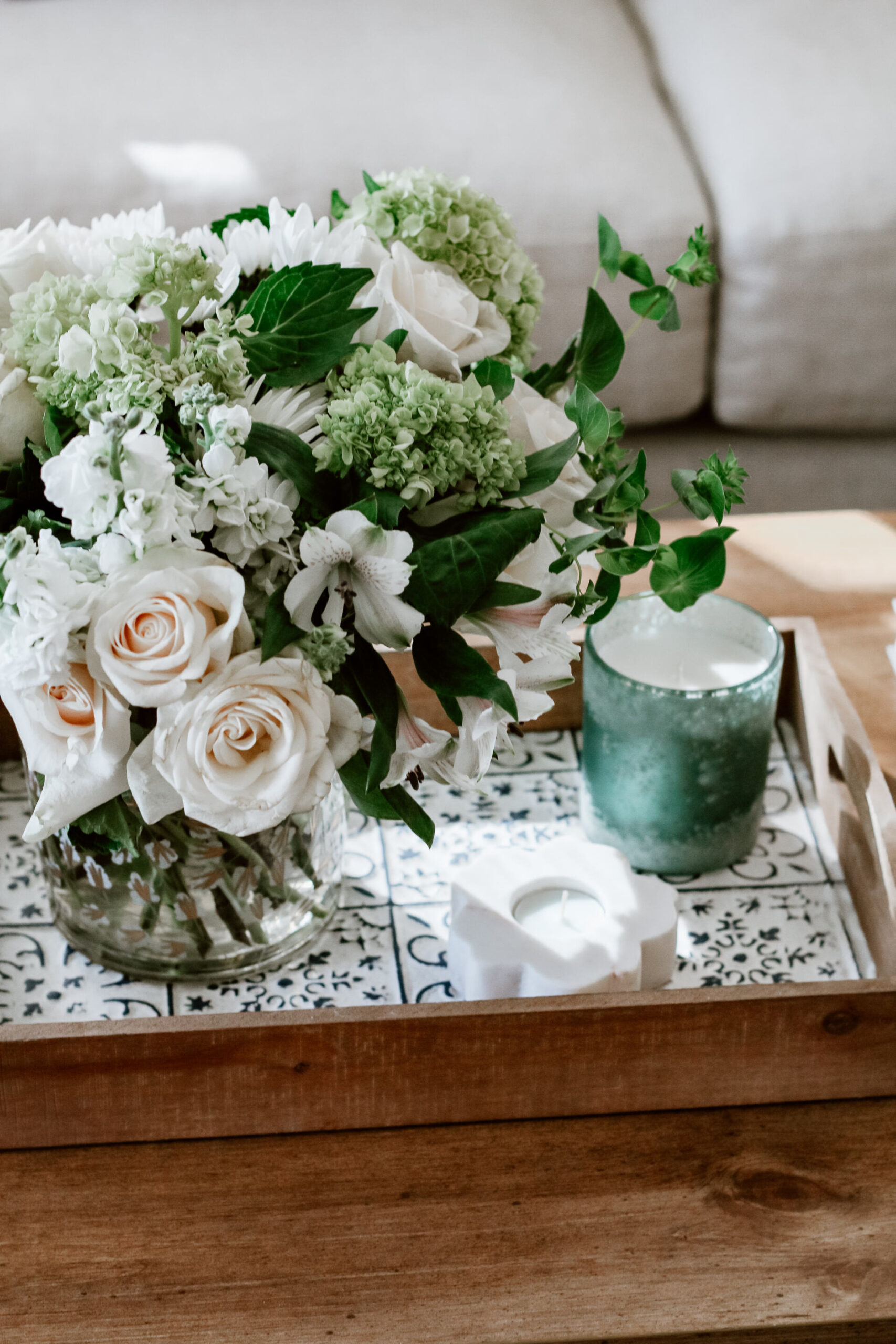 No matter how you choose to refresh your home this Spring, head in-store now for the ultimate deals and steals to refresh your home for Spring!